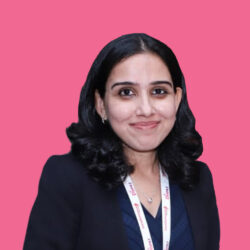 Nirmala is an accomplished professional with a MBA degree and 10+ years of experience in the financial sector dawning different hats across Client Engagement, Business Development, Relationship Management, and Risk Analysis.
After a decade, she switched career trajectories to pursue her true calling in the Learning and Development field. Nirmala brings with her a deep understanding of business and personnel dynamics, efficiency and productivity. Her analytical approach and rich corporate experience leads to a comprehensive and astute assessment of the clients' needs.
Presently pursuing her passion as a Learning & Development Consultant, Nirmala helps organisations identify, create and improve learner engagement, helps design innovative and engaging training programs that are aimed at elevating the entire learning experience. Nirmala is engaged in Training Need Identification and Analysis, Client Engagement, Content Development, Project Management and Managing Assessment Centers.
Nirmala is an adrenaline junkie and an enthusiast of the outdoors and spends her free time in outdoor activities like tennis and cycling. Nirmala loves to travel and her bucket list includes exploring the remote corners of the world someday!