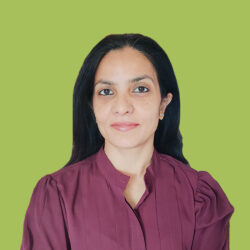 "It's play that makes us do serious stuff better". That's the philosophy on which Priti has founded The Catalyst.
Priti's sales stint at Unilever in her initial corporate stint and her strategy consulting role at Accenture allowed her to have a deep perspective of how businesses run and she combined this with her entrepreneurial dream of running an immersive learning venture to start The Catalyst in 2009.
Her interest in people development started very early in her career, even before the entrepreneurial bug bit her, when as a sales manager and a leader at HUL, she pioneered and rolled out various learning forums for her team. She continued to mentor and coach peers and subordinates in her role as a strategy consultant at Accenture. But she knew learning had to be more self driven and immersive for it to be meaningful.
In the initial years at Catalyst, Priti invested significant time and energy in understanding the art and science of learning through partnerships and certifications. She consciously built a team which cares deeply about learning and in the last few years, the team has designed simulations and learning formats which are immersive, learner-centric and personalised.
Catalyst now proudly services over 100 clients across 6 countries in various facets of leadership development.
Priti is an MBA from XLRI and an economics graduate from St Stephen's college, Delhi University. Apart from The Catalyst, Priti loves to spend time with her kids and read books across various subjects. She cares deeply about Organ Donation campaigns and chairs the Yi, NOIDA chapter for the 'Gift an Organ' program.