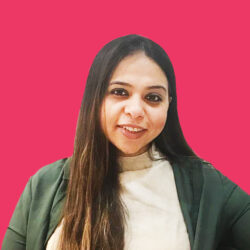 "I have no special talent I am just passionately curious (Albert Einstein)"  sums up her philosophy. Rubina is an avid practitioner of nimble learning, exploring possibilities ,welcoming change and taking life with open arms and a broad smile.
She is a Business Psychologist with over 15 years in the space of Talent Management, Learning and Organizational Development. Her experience spans over diverse Industries like BFSI, Manufacturing, Automobile, IT/ Technology  Pharmaceuticals, Hospitality and Retail. As a Consultant she has worked on assignments with MNCs, mid-sized organisations, start-ups and Consulting firms like Kornferry, Deloitte, E&Y etc helping them with Talent & Leadership advisory.
She has been instrumental in collaborating with companies to create learning experiences that combine a deep understanding of individual developmental abilities and the competency building needs of the business. Her core expertise lies in the areas of strategy, talent management, leadership assessment and development, performance management, designing reward schemes, value and culture integration. She has worked on a multitude of leadership development programs and has managed the entire gamut from assessment, to delivering workshops be it first time managers, mid –manager's or senior leaders preparing them for taking up high-risk, high impact roles. She has worked on a number of senior leader succession management programs as well
As an OD practitioner her expertise lies in designing and implementing culture transformation journeys, building learning organizations, developing career ladders, employer branding, employee retention and engagement strategies
Some of her key accreditations include the Hogans Suite of personality tools (HPI, HDS and MVPI), DISC, & Behavioural Event Interviewing. Other tools that she has worked through her career are, MBTI ,HIVE, Watson Glazer, FIRO & FIRO- B, Belbin's Team Roles Inventory,, Personality & Preference Inventory (PAPI).